Timeline on the Ohio Workers' Compensation Fund coin investment scandal
The Ohio News Network has published a
timeline of the scandal
involving lost workers' compensation money to coin dealer Tom Noe. As it turns out, Noe was also a member of the Ohio Turnpike Commission, a position he later resigned. It seems Noe's seat on the Turnpike Commission was also a return on his personal political investment in Bob Taft.
This raises other questions: From what I can see, Mr. Noe seems to have begun his illustrious career during the Governorship of George Voinovich. How many favors did Gypsy George give Noe? What else was Noe involved in
viz. a viz.
the
State of Ohio
?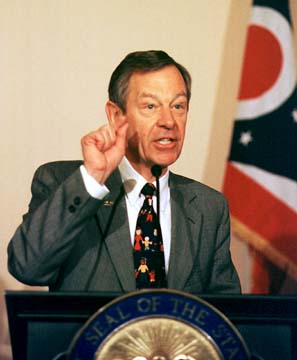 Georgie Porgie: Did he initiate the process that allowed rare coin dealer Tom Noe to rob millions from the Ohio Workers' Compensation Fund?