Are These Results Surprising?
Are these results something that surprise those of you who are regulars to this weblog?
My Political Views
I am a right moderate social libertarian
Right: 3.24, Libertarian: 1.19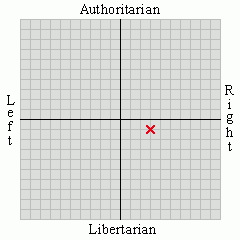 Political Spectrum Quiz
I have to admit that I found this next result a little surprising...
My Foreign Policy Views
Score: 1.48

I scored well as a Culture Warrior, due in large part to my pro-life views.
My Culture War Stance
Score: 4.98

Labels: Blogging, Conservatism, Faith